I shamelessly love Valentine's Day. Yeah I know all the arguments:
blah blah commercialism, blah blah single, blah blah shouldn't need an excuse for chocolate.
STEP OFF ME. I love it anyway. Why? Because making people feel loved is something I feel like we should all be doing all the time anyway regardless of relationship status or day of the year. Usually my love is expressed in the form of food, more specifically sugar. I promise I will reach beyond the norm and find other ideas for this Valentine's themed weekend inspiration.
Make your own
Conversation Candy hearts
. You know, so they can say things that make sense instead of sounding like a creepy middle schooler wrote them.
Glitter sidewalk chalk
! If you don't want this, I don't understand you.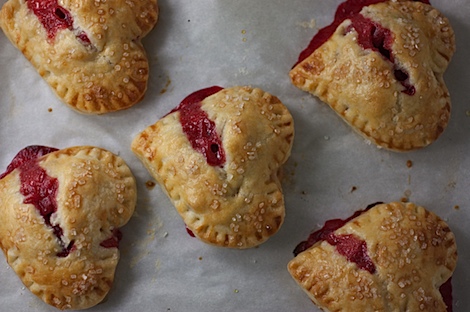 I made these
mini heart pies
last year for the people in my office. They were so much fun to make and everyone loved them.
Knitted Heart Valentines
. Because we knitters have so much love to give.
This pretty
paper heart garland
could easily be up all year round.
Who knew
homemade crayons
could make such a beautiful Valentine gift? As a (pseudo) adult, I would be thrilled to get this from anyone.
We're all a little more lovable when we're
caffeinated
.
A
sweet, healthy touch
to any Valentine's cocktail, heart shaped ice cubes made with pomegranate seeds.
What are your plans for Valentine's Day? A big trend seems to be staying in this year. As a shameless homebody I fully support this idea. Whatever you do, and whomever you choose to spend it with, I hope it's a day full of love (and sugar).
Sheila